About German Patience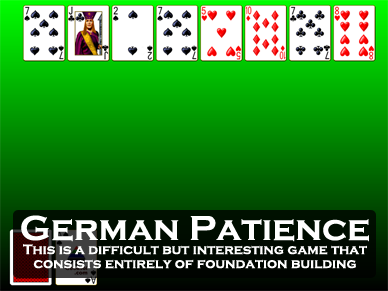 Screen shot of the game German Patience from Pretty Good Solitaire.
German Patience is a two deck game that is very hard to win. At the start of the game, 8 cards are dealt out in a row, forming a tableau of 8 piles. All building will be on these piles. The objective is to play all the cards to these 8 piles by forming 8 sequences of 13 cards.
How to Play
In each pile, you can build up regardless of suit, wrapping from King back to Ace. For example, if a pile starts with a Jack, you can play a Queen, King, Ace, Two, and so on until you get up to a 10. Then the pile is full with a complete sequence of 13 cards. Spaces created in the tableau can be filled with any card.
After the first 8 cards are dealt out, the remaining cards form a stock that is turned over one card at a time to a waste pile. The top card of the waste is available for play on the 8 piles. There is no redeal.
The secret to success in German Patience is to create empty spaces and use them wisely as cells for as long as possible. By keeping some spaces empty, you have options to move cards around. Eventually, however, you will be forced to fill all the spaces in order to build the 8 sequences. To win, you need to avoid getting too many cards buried in the waste or the game will be hopeless.
The average player will win only about 1 in 200 tries. Because the game is so difficult, I invented a variation called Bavarian Patience. Bavarian Patience is exactly like German Patience except it has two extra tableau piles. You still create 8 sequences of 13 cards, but in Bavarian two piles will be empty in the end. The extra two piles means that you will always have two extra piles to use as cells. This makes the game much easier. An average player can win Bavarian Patience 10 to 15 percent of the time.
German Patience is one of the 850 games in Pretty Good Solitaire.
Variations of German Patience
Pretty Good Solitaire
950 Solitaire Card Games
Download Pretty Good Solitaire Now
Download the free 30 day trial of Pretty Good Solitaire, the world's biggest solitaire collection with full undo, large card sizes, and easy offline play.
---
100% Clean
Our downloads contain only our games and no other software. No files other than those required to run our games are installed.
---
Or Buy from Amazon.com!


Buy Windows CD from Amazon.com

Subscribe to our Newsletter
Sign up for the free Goodsol email newsletter. Your email address will only be used to send you our free newsletter. Newsletter subscribers get access to our free Cat Card Set!