About Rouge et Noir Solitaire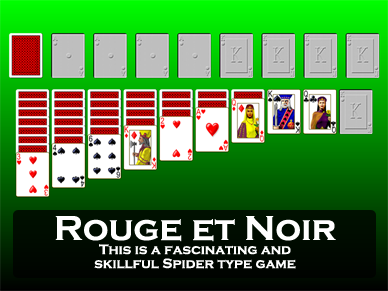 Screen shot of the game Rouge et Noir from Pretty Good Solitaire.
Rouge et Noir is a challenging solitaire game. It is one of the most interesting of the Spider type games. It is a 2 deck game.
What makes Rouge et Noir unique is its special way of building on the foundations piles. The leftmost 2 foundations begin with red Aces and are built up in color to Kings. The next 2 foundations begin with black Aces and are also built up in color. The rightmost 4 foundations, however, are not built up a card at a time at all. In these foundations, you must drop an entire 13-card sequence of cards. For the left 2 foundations, these sequences must be headed with a red King, the last two a black King. These sequences must be built in the tableau and transferred to the foundations as a 13 card sequence when they are completely built.
How to Play
The average player wins Rouge et Noir about 10% of the time. It seems that a good player can win about 25-30% of the time.
The strategy in Rouge et Noir is to build as many cards into sequences in the tableau as possible. You want to get the buried face down cards out into play as quickly as possible. Move single cards up to the leftmost 4 foundations only if they cannot be built into sequences in the tableau or if you need to move them up in order to move up higher cards. Once you complete a 13 card sequence in the tableau, move it up to one of the rightmost foundations to free up more building space in the tableau.
When you have a choice, you generally want to move a card on the leftmost piles as these have more buried cards underneath. Also, start building higher ranked cards into sequence first as the lower ranked cards are more likely to be able to be played up to the foundations.
Rouge et Noir is one of the 820 games in Pretty Good Solitaire and one of the 101 games in Goodsol Solitaire 101.
Variations of Rouge et Noir
US $24.95 - optional $9.95 shipping for CD
Or Buy from Amazon.com!


Buy Windows CD from Amazon.com


Download on the Mac App Store
---
Download Pretty Good Solitaire Now
Windows

Version 14.2.0 - October 8, 2013 - 820 Games
Mac

Version 2.50 - August 27, 2013 - 500 Games
iPad

Version 1.1 - October 22, 2013 - 520 Games
---
100% Clean
Our downloads contain only our games and no other software. No files other than those required to run our games are installed.

Subscribe to our Newsletter
Sign up for the free Goodsol email newsletter. Your email address will only be used to send you our free newsletter. Newsletter subscribers get access to our free Cat Card Set!
Like or Follow Us!