Home

/

Play FreeCell Online
Learn More About FreeCell Download Pretty Good Solitaire Now Buy Pretty Good Solitaire Now
Play Pretty Good Solitaire with hundreds of solitaire games including FreeCell offline and full screen on Windows, Mac, or iPad
The Complete Guide to FreeCell Type Solitaire Games
---
Pretty Good FreeCell
---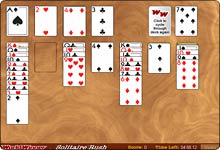 Solitaire Rush
Compete at solitaire for cash, powered by Worldwinner
Play either 1 card or 3 card draw
How to Play - FreeCell Rules
Object - to move all the cards to the 4 foundation piles (top right).
4 Foundation piles (top right) - build up in suit from Aces to Kings.

8 Tableau piles - build down in alternating color. Move groups of cards if they are in sequence down by alternate color and if there are enough free cells that the cards could be moved individually. Spaces can be filled by any card or legal group of cards. At the start of the game 7 cards are dealt face up to the leftmost 4 piles, 6 cards are dealt face up to the remaining piles.

4 Cells (top left) - storage locations for cards. Only 1 card allowed in each cell.
More Information about FreeCell
To turn AutoPlay (the automatic moving of cards to the foundations) on or off, click on the AutoPlay button.
To play a new game, click on the New Game button.

To play the most obvious move for a card, right-click on the card.
Download Pretty Good Solitaire while you play!
Play solitaire including FreeCell offline and full screen
Windows

870 Games -

Mac

575 Games
---
100% Clean
Our downloads contain only our games and no other software. No files other than those required to run our games are installed.

Download Goodsol Free Solitaire, a completely free collection of 12 solitaire games for Windows offline play, including FreeCell!
---

Subscribe to our Newsletter
Sign up for the free Goodsol email newsletter and get our free Cat Card Set!
And there is a Dog Card Set too!
---

---

Goodsol.com
- Solitaire the Way it Was Meant to Be
Copyright ©1995-2015 Goodsol Development Inc., PO Box 9155, Springfield IL 62791. All Rights Reserved.