Action Solitaire
Play 75 Solitaire Games in Timed Rounds
Works on Windows 10!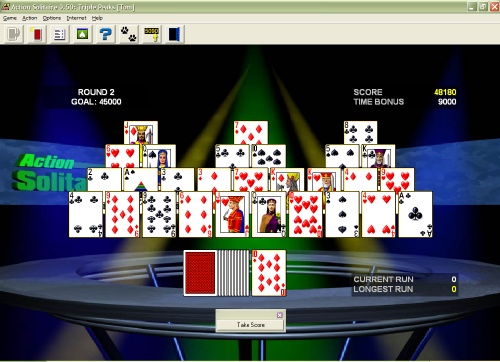 Play Triple Peaks in Action Solitaire. Download Now!
Download Action Solitaire Now!
How to Play Action Solitaire
Just play solitaire. Make moves to score points.


Your objective is to reach the Goal Score before time runs out. The round is over if your Time Bonus counts down to zero.


When you reach the Goal Score, your score will turn yellow.


You can end a round at any time by clicking on the Take Score button. You will get your score plus any Time Bonus points remaining.


If you reached the Goal Score, you can move on to play another round.


OK, now you are ready to download and play!
Download Action Solitaire Now!
Windows XP/Vista/7/8/10/11
Play Hidden Sums in Action Solitaire, one of the 75 solitaire games in Action Solitaire. Play FreeCell, Klondike, Spider, Yukon, Golf, Pyramid, and more in timed rounds.
US $19.95
---
List of Games in Action Solitaire Lost Code
---

Subscribe to our Newsletter
Sign up for the free Goodsol email newsletter and get our free Cat Card Set!
And there is a Dog Card Set too!
---

Goodsol.com
- Solitaire the Way it Was Meant to Be
Copyright ©1995-2023 Goodsol Development Inc., PO Box 9155, Springfield IL 62791. All Rights Reserved.