About Acme Solitaire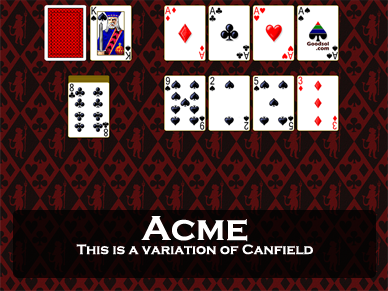 Warning! - Pretty Good Solitaire may be addictive. We are not responsible for lost productivity, neglected spouses, children, or pets. We are not responsible for lost sleep because you stay up to play "just one more game".
Acme is a variation of the game Canfield. It is very similar to Canfield, except that the building in the tableau is down in suit rather than by alternate color.
How to Play
Acme is a one deck game. At the start of the game, the four aces are dealt to four foundation piles. The object is to build these four foundation piles up in suit from the Aces to Kings.
One card is dealt face up to each of four tableau piles. 13 cards are dealt to a reserve pile, with only the top card available. The remaining cards form a stock.
In the tableau, piles are built down by suit (different from Canfield). Only one card at a time may be moved. Spaces are filled by the top card of the reserve, or if the reserve is empty, any card.
The stock is turned over one card at a time to a waste pile by clicking. There is one redeal.
Acme can be won on average about 15% of the time, but there is room to improve this with skillful play.
Variations of Acme