About Carlton Solitaire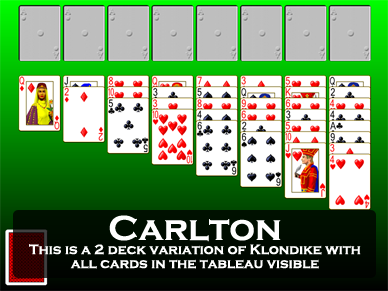 Warning! - Pretty Good Solitaire may be addictive. We are not responsible for lost productivity, neglected spouses, children, or pets. We are not responsible for lost sleep because you stay up to play "just one more game".
Carlton is a two deck Klondike type game with a tableau of all face up cards. It is the main game of the Carlton subtype of Klondike type games.
How to Play
Carlton has eight tableau piles. At the start of the game, one card is dealt to the first pile, two cards to the second pile, and so on up to eight cards in the eighth pile. All cards are face up.
The remainder of the cards form a stock. By clicking on the stock, one card will be dealt to each tableau pile. There are eight foundation piles. The object of the game is to build all of the foundation piles up in suit from Aces to Kings.
In the tableau, building is down by alternate color. Groups of cards in sequence down by alternate color may be moved. Spaces may be filled by any card or group of cards.
Old Carlton is exactly like Carlton except groups of cards may be moved regardless of sequence. Carlton Cell is just Carlton with one free cell. There are many other similar games which can be seen in the Carlton type section of Klondike type games.
Variations of Carlton