About Double Pyramid Solitaire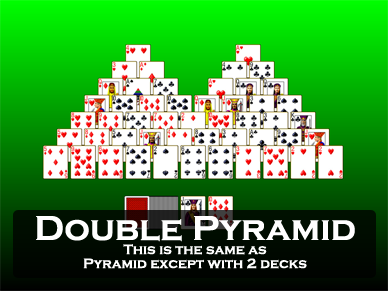 Screen shot of the game Double Pyramid from Pretty Good Solitaire.
Warning! - Pretty Good Solitaire may be addictive. We are not responsible for lost productivity, neglected spouses, children, or pets. We are not responsible for lost sleep because you stay up to play "just one more game".
Double Pyramid is a two deck Addlition type game that I invented.
How to Play
At the start of the game, 50 cards are dealt out in a pyramid shape with two peaks. Only uncovered cards are available for play. Discard pairs of cards whose ranks add to 13 (Queen-Ace, Jack-Two, Ten-Three, Nine-Four, Eight-Five, Seven-Six). Kings are discarded singly. To discard a pair, drop one card on the other, or right-click on one of the cards.
The remainder of the cards form a stock. Clicking on the stock turns over one card to a waste pile. The top card of the stock or waste pile is available for pairing on the pyramid. There are two redeals.
The game is won if all the cards are paired and removed from play. When the stock is empty and there are no remaining moves and there are remaining cards, the game is lost.
Double Pyramid is a difficult game to win as the cards are usually stacked against you. An average player wins about 8% of the time.
Variations of Double Pyramid