About Eighty Thieves Solitaire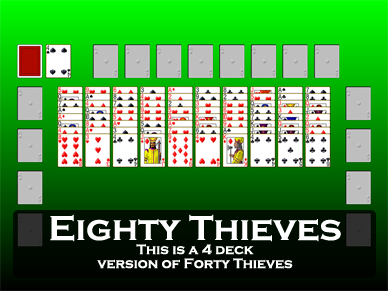 Screen shot of the game Eighty Thieves from Pretty Good Solitaire.
Warning! - Pretty Good Solitaire may be addictive. We are not responsible for lost productivity, neglected spouses, children, or pets. We are not responsible for lost sleep because you stay up to play "just one more game".
Eighty Thieves is one of the new games in version 10 of Pretty Good Solitaire. Of all the games new to version 10, Eighty Thieves has provoked the most discussion on the Goodsol Forum.
How to Play
Eighty Thieves is a four deck version of Forty Thieves. At the start of the game, 8 cards are deal to each of ten tableau piles. These are the 80 thieves. The remainder of the cards are dealt to a stock, which will be turned over one card at a time to a waste pile.
In the tableau, cards are moved one card a time. Building is down by suit. Empty spaces can be filled by any card.
The object is to free the Aces to start 16 foundation piles, built up in suit from Ace to King. The game is won when all the cards are moved to the foundations.
Eighty Thieves is a very difficult game to win, more difficult than Forty Thieves. The online scores indicate that it is won about 1% of the time.
One player has developed an interesting strategy for Eight Thieves. In this forum discussion, he posted a saved game demonstrating a strategy of moving cards back from the foundation piles to the tableau to help free other cards. To see this strategy in action, download the saved game from the discussion (the easiest way to do this is to right click on the saved game link and select "Save Target As..." from the popup menu. Then go into Eighty Thieves and open that file from the Game menu).
Even with this strategy, success will be rare. Creating an empty tableau pile is absolutely vital for success. If you can't do that well before the stock is empty, it is unlikely you will come close to winning.
Eighty Thieves is one of the 850 games in Pretty Good Solitaire.
Variations of Eighty Thieves