About Free Fan Solitaire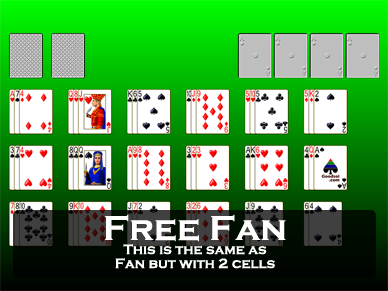 Warning! - Pretty Good Solitaire may be addictive. We are not responsible for lost productivity, neglected spouses, children, or pets. We are not responsible for lost sleep because you stay up to play "just one more game".
Free Fan is a one deck Fan type game.
How to Play
At the start of the game, three cards are dealt face up to each of 18 fans (except the last two fans only have two cards). This deals out the entire deck, making Free Fan an open game (all cards visible).
There are four foundation piles, which are to be built up in suit from Ace to King. The object of the game is to move all of the cards to the foundation piles.
There are also two cells. One card is allowed in each cell, and that card is available for play on the foundations or the fans. The cells start the game empty.
In the 18 fans building is down by suit. Only one card at a time may be moved. Spaces are filled only with Kings, which means only four spaces can be filled in a game.
Free Fan is the classic game Fan with the addition of the two cells. It is also very similar to the games La Belle Lucie and the popular game Three Shuffles and a Draw.
Free Fan is original to Pretty Good Solitaire and was invented by Gregg Seelhoff.
Variations of Free Fan