About Taj Mahal Solitaire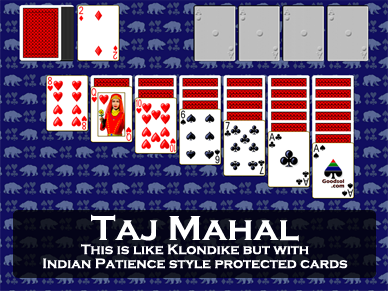 Warning! - Pretty Good Solitaire may be addictive. We are not responsible for lost productivity, neglected spouses, children, or pets. We are not responsible for lost sleep because you stay up to play "just one more game".
Taj Mahal is a Klondike type game with aspects of Indian Patience.
How to Play
Like Klondike, there are seven tableau piles. The cards are dealt out at the start of the game exactly like Klondike, one card to the first pile, two cards to the second pile, and so on, with only the top card face up.
The rest of the cards form a stock. The stock is turned over one card at a time by clicking. There are no redeals.
There are four foundation piles. The game is won when all cards are moved to the foundations.
In the tableau, building is down by any suit but the same. Groups of cards may be moved as a unit if they are in sequence down by any suit but the same. Spaces may be filled by any card.
When only one card remains in a tableau pile, the card becomes what is called a protected card. Protected cards may be moved only to a foundation pile and no cards may be played on them. Protected cards remain protected until the stock is empty, then they become available for play on other tableau piles and other cards may be played upon them.
The idea of protected cards comes from the game Indian Patience. The addition of these protected cards make Taj Mahal harder than regular Klondike.
Variations of Taj Mahal