About Gold Mine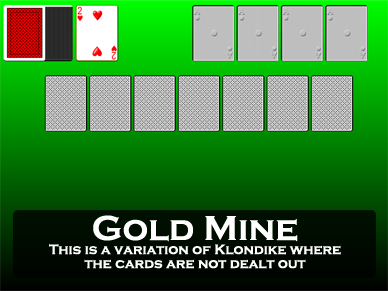 Warning! - Pretty Good Solitaire may be addictive. We are not responsible for lost productivity, neglected spouses, children, or pets. We are not responsible for lost sleep because you stay up to play "just one more game".
Gold Mine is a Klondike type solitaire game.
How to Play
At the start of the game, all 52 cards begin in the stock pile. There are seven tableau piles and 4 foundations piles. The object of the game is to build the foundation piles up in suit from Ace to King.
All the tableau piles begin empty. They are to be built down in alternate color and groups cards in sequence down in alternate color may be moved together. Any card or legal group of cards may be placed in an empty pile.
The stock pile is turned over 3 cards at a time to the waste. The top card of the waste is available for play. There are no redeals.
Play consists of turning over cards to the waste pile and playing cards to the tableau. When possible, cards are then played up the foundations. The game is essentially Klondike without the tableau dealt out at the beginning of the game.
The primary decisions throughout the game are whether to leave a card buried in the waste or to play it to the tableau. Any cards left in the waste will need to be retrieved later. It is best not to let low cards get buried in the waste. Once all the tableau piles are filled, your options decrease dramatically. At that time, the only cards that can be played are on the tableau down in alternate color or immediately to the foundations.
It is a good idea to always keep at least one tableau pile empty. By doing this you can double the number of cards that can be played to the tableau. This is because when a tableau pile is empty, you can play the top card of the waste pile to that empty pile. Then if another pile can be moved onto that card, an empty tableau pile will remain. To make plays you want cards that can be played either to the bottom of tableau piles or to the top.
Gold Mine is a game that offers lots of decisions and therefore a lot of room for skill to improve your chances. Robie is a similar game based on Forty Thieves.
Variations of Gold Mine