101 of the most played solitaire games
Now for both Windows and Mac!
Dear Solitaire Player,
Goodsol Solitaire 101 is a collection of 101 of the most played solitaire games. With beautiful playing cards, full undo and redo of all your moves, automatic game saving, and complete statistics, Goodsol Solitaire 101 is solitaire the way it ought to be.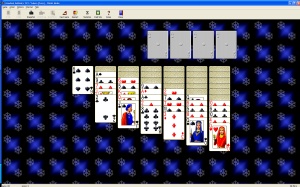 Screenshot of Goodsol Solitaire 101
Play the most popular games - Klondike, FreeCell, Spider, Pyramid, Scorpion, Canfield, Golf, Yukon and more!
With Goodsol Solitaire 101's unique Climb Mode, play each game starting from game #1 and keep a cumulative score. You can even submit your statistics to our web site to compare your scores with other solitaire players worldwide.
Download the 30 day trial version.
Version 2.12
September 25, 2012

7 Megabytes
For Windows XP/Vista/7/8 or Mac OS X 10.4 or later
100% Clean
Our downloads contain only our games and no other software. No files other than those required to run our games are installed.
Subscribe to our Newsletter
Sign up for the free Goodsol email newsletter. Enter your email address below, and then click the Subscribe button. Your email address will be kept confidential, and it will only be used to send you our free newsletter.
30 Day Money Back Guarantee
Ordering Goodsol Solitaire 101 is risk free! Our order pages are on a secure server. Feel secure in ordering from an established company that's been doing business on the internet since 1995.
The 101 games are only a one time fee of US$19.95.


The full version contains 34 bonus game variations for a total of 135 games!


Buy once, get both the Windows and Mac OS X versions!


For an additional US$9.95 shipping you can receive our CD that will install the latest version.


We offer an unconditional 30-day money-back guarantee! If for any reason you are not satisfied, you can return Goodsol Solitaire 101 for a full refund.


You are protected if you lose your copy. If you get a new computer or your computer crashes, no problem. Just download another copy and use your registration code.


We never sell or give your personal information to anyone.


US $19.95 - optional $9.95 for CD

Please take advantage of this offer, and buy and download Goodsol Solitaire 101 now. You'll enjoy countless hours of fun playing solitaire. If you have already downloaded Goodsol Solitaire 101 or want a CD copy, register or order a CD-ROM.
Sincerely,
Thomas Warfield
President
Goodsol Development, Inc.


P.S. If you aren't ready to buy yet, download our free 30 day trial of Goodsol Solitaire 101.
---
Goodsol.com > Goodsol Solitaire 101