Yukon Type Solitaire Games
A Complete Guide to the Yukon Type Games in Pretty Good Solitaire
The move all uncovered cards game

Yukon is a popular game similar to Klondike. The main characteristic of Yukon and other games like it is the ability to move all uncovered cards as a group, regardless of any sequence.

Learn more about Yukon »




Yukon Type Games
Each Yukon type game in Pretty Good Solitaire is classified into a subgroup here. Some games may belong to more than one subgroup.
Building by Suit - Russian Solitaire Type
Building Up or Down - Alaska Type
Other Building Methods
Australian Patience Type
Other Games

Adelaide
Outback with a redeal


Move 13 Card Units to Foundations
---
Download Pretty Good Solitaire
Download Pretty Good Solitaire Now
Windows

Version 17.0 - March 23, 2017 - 940 Games
Mac

Version 3.30 - August 11, 2016 - 700 Games
iPad

Version 1.50 - February 3, 2017 - 700 Games
---
100% Clean
Our downloads contain only our games and no other software. No files other than those required to run our games are installed.
---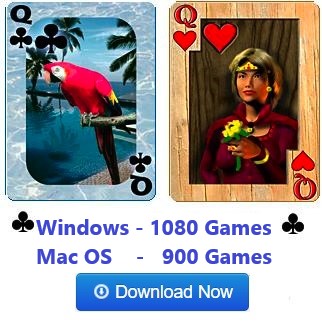 ---

Subscribe to our Newsletter
Sign up for the free Goodsol email newsletter and get our free Cat Card Set!
And there is a Dog Card Set too!
---

---

Goodsol.com
- Solitaire the Way it Was Meant to Be
Copyright ©1995-2017 Goodsol Development Inc., PO Box 9155, Springfield IL 62791. All Rights Reserved.