About Eternal Triangle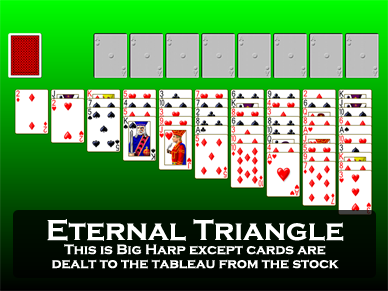 Screen shot of the game Eternal Triangle from Pretty Good Solitaire.
Warning! - Pretty Good Solitaire may be addictive. We are not responsible for lost productivity, neglected spouses, children, or pets. We are not responsible for lost sleep because you stay up to play "just one more game".
Eternal Triangle is a two deck Klondike type game.
How to Play
There are eight foundation piles which will be built up in the usual way from Ace to King in suit. The game is won when all of the cards are moved here.
There are ten tableau piles. These piles will be built down by alternate color. Groups of cards may be moved if they are in sequence down by alternate color. Spaces are filled by a King or a group of cards headed with a King. At the start of the game 1 card is dealt to the first pile, 2 to the 2nd, and so on. All cards are face up.
The remainder of the cards form a stock. When play in the tableau comes to a standstill, deal one card to each tableau pile by clicking on the stock. There are no redeals.
Eternal Triangle is a difficult game to win. An average player wins only about 10% of the time.
Variations of Eternal Triangle