About Northwest Territory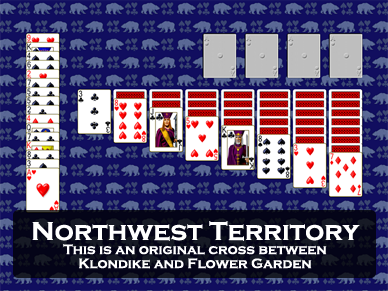 Screen shot of the game Northwest Territory from Pretty Good Solitaire.
Warning! - Pretty Good Solitaire may be addictive. We are not responsible for lost productivity, neglected spouses, children, or pets. We are not responsible for lost sleep because you stay up to play "just one more game".
Northwest Territory is a cross between the games Klondike and Flower Garden. It was one of the first original games added to Pretty Good Solitaire.
How to Play
It is a one deck game. There are 8 tableau piles. At the start of the game 1 card is dealt to the first pile, 2 cards to the 2nd, and so on. The top card is face up. Building is down by alternate color, as in Klondike. Move groups of cards if they are in sequence down by alternate color. Spaces may be filled only with Kings or groups of cards headed by a King.
The remaining 16 cards form a single reserve pile. All of the cards are face up and available on the foundations or tableau.
There are 4 foundation piles, which are to be built up in suit from Ace to King. The game is won when all cards are moved here.
An average player wins Northwest Territory about 50% of the time, but it is quite possible to win most positions, so much better percentages can be achieved.
Variations of Northwest Territory