Home

/

What are the original games in Pretty Good MahJongg?
What are the original games in Pretty Good MahJongg?
There are many Mahjongg solitaire programs available. But they generally contain only one actual game, the tile matching game where you remove pairs of tiles. Until now there was essentially just this one MahJongg solitaire game, varied by different starting layouts. To compare that to solitaire card games, it is as if Pyramid were the only solitaire card game. But there are many hundreds of solitaire card games.
Pyramid of Wild Dragons
Pretty Good MahJongg brings to MahJongg solitaire games what Pretty Good Solitaire has done for solitaire card games. Pretty Good MahJongg contains brand new original MahJongg solitaire games such as MahJongg Spider, MahJongg Klondike, and MahJongg FreeCell. Play Crazy Quilt, MahJongg Gaps (also known as Montana), and the amazing Pyramid of Wild Dragons.
Never before have solitaire card games been adapted to MahJongg tiles. Pretty Good Solitaire contains nearly one hundred original solitaire card games, and now Pretty Good MahJongg brings the originality and gameplay that has made Pretty Good Solitaire the world's most popular solitaire card game to the realm of MahJongg tiles.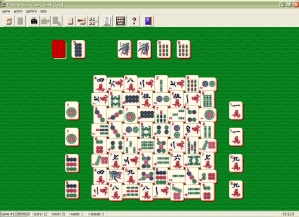 Crazy Quilt with MahJongg tiles
Pretty Good MahJongg takes solitaire card game concepts and adapts them to MahJongg tiles. The current version contains 6 new original games (with 21 total variations) created by Thomas Warfield for the program. Our intention is to build Pretty Good MahJongg just like we built Pretty Good Solitaire. Pretty Good Solitaire started in 1995 with just 5 solitaire card games. By 2006 it had grown to 640 games ! Pretty Good MahJongg will probably never have that many games, since every game will have to be invented, while there are hundreds of classic well known solitaire card games. Still, there is the potential for many, many MahJongg solitaire tiles games based on solitaire card game concepts.
If you like playing the tile matching MahJongg solitaire game, or if you like playing solitaire card games, we think you'll love playing Pretty Good MahJongg. Download the trial version now and give it a try!

Subscribe to our Newsletter
Sign up for the free Goodsol email newsletter and get our free Cat Card Set!
And there is a Dog Card Set too!
---

Goodsol.com
- Solitaire the Way it Was Meant to Be
Copyright ©1995-2023 Goodsol Development Inc., PO Box 9155, Springfield IL 62791. All Rights Reserved.